Riding a motorcycle in Japan is a very special experience. A land with a rugged spectacular coastlines, a mountainous interior as high as European alps with deep valleys criss-crossed with superb roads. It is also one of the safest places on earth with no petty crime. The country people are really friendly and go out of their way to help you even if you don't speak the language. It is easy to access anything you need while travelling here, with terrific food and a rich history to explore if you choose.
In this post I am going to write a few things aiming to help motorcycle riders thinking about Japan but not sure. It is not intended to be a travel guide for Japan, there are 1000's of people writing those already. Nor is it for the expats living here or intrepid adventurer riding around the world who will likely find this article too basic. This is written for the average rider like myself, curious about riding different places but not always sure about their ability to deal with every challenge. If you do not have the time to read all then know the top three points are choose the right season to visit, careful route planning is essential and not trying to travel too far in a day are the top three points, but now I will elaborate in detail.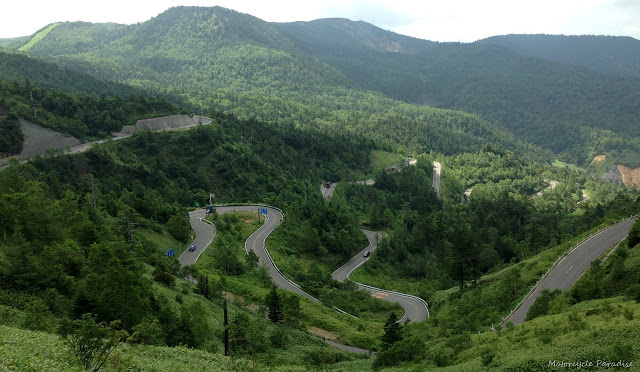 1. When is the best time to visit Japan for motorcycle riding?

Timing your ride to here is essential. Japan might have four distinctly different seasons but none of them are dry. While it is true you could ride here any month of the year the best time in my opinion is May and November. Hokkaido has a different weather pattern. People say August is best but I found May to be cold but fine and Summer there wet. Month by month for main islands? – ok January and February is winter, very cold with snow. Late March early April is a turning point when the Cherry Blossoms bloom. The alps still snow but but coastal roads and southern roads will be open by March 31st. Hokkaido is still ski season so forget there. April can be mixed weather, it is said the short display of cherry blossoms often ends with rain but then fine days will emerge and it can be pleasant into May. June to July is rainy season except for Hokkaido. See below.
Japan rainy season (Tsuyu)
| | | |
| --- | --- | --- |
| Region | Start | End |
| Okinawa | May 8 | June 23 |
| Southern Kyushu | May 29 | July 13 |
| Shikoku | June 4 | July 17 |
| Kinki | June 6 | July 19 |
| Kanto | June 8 | July 20 |
| Northern Tohoku | June 12 | July 27 |
The above chart is not a prediction but rather the official dates that are an average of historical data and it could be longer or shorter in any region. Some years it can be dry, I rode right through June 2014 summer with barely a wet day but next year there was heaps. Continuing month by month – August is peak summer and humidity can reach 60% and it temperatures high 30's. Its unpleasant to ride in that but late August early September the heat eases and there can be a good week to ten days of fine weather. September and October is generally less rain however it will have wet days and that is typhoon season. Japan gets a lot of typhoons (22 in 2017) so there will be at least one in those months every year which will bring heavy rain for a few days but you can ride through them sitting out the day of heaviest rain in a hotel as I have. November is a great month to ride south as autumn leaves are on full display and the typhoons have usually finished and it is mostly fine. But expect some wet days and it will be turning cold so you need proper winter gear. You can ride into December in Kyushu but further north roads will start to be closed with snow. 
Be aware there is a national public holiday period called Golden week start of May where 1/2 the country takes a small holiday and hotels and bike rentals need to be booked well in advance. It will be perfect weather that week but busy. In August there are many festivals so some towns will be booked out. 
Temperatures
May the days warm up to mid 20's. It can feel like more in city traffic if stopped in full sun but less when moving in the mountains where it can still be cool perhaps down to 10 degrees. The alpine roads all start to open then but snow will remain at higher levels.
Summer in Japan is very humid getting briefly to 30 but real feel is 38+ and in city traffic can feel 40 on bike in gear. I actually find the temperature this time of year agreeable for me to do short ride but I come from the tropics, people from UK, Europe and most of North America may find this time of year too hot. September is changing temperature and bit like May. Warmer down low but already getting cold in mountains. North is already cold but south to Kyushu still nice and warm. October you are into Autumn with colour leaves in the north. Hokkaido already will have snow falling. Some high passes may start to close, black ice is a risk in the alps. November is turning quite cold all but Kyushu. Autumn leaves in full colour to the south. Already snow on all the high mountains. Ice a danger in places. December is lovely clear air very cold. Mountain roads now will be closed except Kyushu. 
Hokkaido is only a late Spring and Summer riding destination, it gets metres of snow so forget going there rest of year. Okinawa is so far south it's climate is tropical like South East Asia and can be ridden all year round however it rains all year round and has no dry spell early in year like you might expect. Here are some ride reports to give an idea of the different seasons in Japan. Early in the year mid March still snow and the vegetation is brown and grey. Mid year there can be some fine days in the rain season (but you know weather is unpredictable) this is lovely time for short ride somewhere. Autumn is spectacular in Japan and my favourite time of year here. Winter unfortunately is long and cold.
2. Where can I rent a motorcycle in Japan?

You are likely to be arriving in Tokyo which is also where you can rent a motorcycle but to be honest Tokyo is a lousy place to start or end a ride being a metropolis of 30+ million people.
Rental819 is a very large national motorcycle rental agency with 100 agencies across Japan. There are three stores in Tokyo that have English speaking staff.
Apex Moto is a motorcycle dealership and rental service run by an Australian which is located west of Tokyo and this would be a good place to start riding compared to Tokyo.
Japan Bike Rentals is a Tokyo rental shop with English speaking staff.
Japan Touring Service is a motorcycle dealership and rental service based in Okayama which would be another great starting point.
Best Bike is a Japan motorcycle share and rental service which delivers bikes to you.
Bike Rental Japan is motorcycle rental service in Osaka with English speaking staff.
Pricing is expensive, higher than Europe or USA. If you don't mind older bike then try ask around. I rented a BMW R1150 in west Tokyo for less than half the above prices, still great bike, just asked around and sourced it from a local motorcycle shop. I don't think the model bike really matters long as it will be reliable.
Try choose a bike in the cheaper classes, that might be a 400cc machine. A 400cc bike if touring solo is fine choice for Japan and everyone who has contacted me before and after doing a ride here has said ' a smaller bike would have been enough'.
3. What gear to bring?

Your gear should be aligned to the season you will be riding here. Unless you plan to do a ride in summer then the temperatures as noted in the first section lean towards cool. Most important you should have a good rain solution with you be it Gore-Tex outfit or a quality breathable rain outfit, waterproof gloves, waterproof boots or good covers. You will encounter rain on any tour in Japan. Best to have gear that you have tested in rain to know works well. Finding out your Gore-Tex jacket leaks or pants leak or flap about and let water into boots or boot covers let water splash up from beneath (a few of my personal mistakes on tours) are things best discovered on a day ride at home. A tour overseas is a great excuse to buy some new gear but not the time to first be trying it out – as I  know too well.
Gore-tex gear here in summer is a bit too hot in my experience but if it can vent air and you also brought riding jeans then would be ok. The temperatures may only get to 28 in some places but the humidity is 90% so mesh gear in summer is better but then you may need to add a liner as you go up in the mountains where it can fall into teens. I suggest riding here in Spring or Autumn not Summer to lessen rain riding.
Something I find very helpful is technical base layer shirts rather than riding in cotton t-shirts which are hopeless. Same for socks, any of those outdoor shops has the coolmax and stay dry gear. Also your gloves really need to be up to the task of dealing with say a wet day 10 degrees if riding in Autumn as that is always a possibility. Make sure you include some dry bags for your clothes and electronics. My panniers are waterproof but many rental motorcycle cases are not.
But don't let the prospect of rain put you off. Most any riding destination can encounter rain on a tour. I would include some visor anti-fog as I encounter the visor fog issues here all the time with cold air and on wet days which I had never really experienced in warmer places. You will also need a International drivers permit. It is an out-dated document in these days of Google translate but make sure you grab one from your RAC type organisation before leaving.
4. Where to ride?

If starting with a small ride from Tokyo I would suggest riding two areas close by. If you only had a couple of days then Izu peninsular seems a natural choice. There is a high concentration of good riding roads there and Mt Fuji views. If you had a couple more days (and here in the right season) then Izu region and Nagano region would be a great combo to experience the Japanese alps.
As I mention in my rides here I find 300km a maximum daily ride distance if not using the expressways and taking in some sights. If you have more than a few days then a trip to Shikoku via Mie and Wakayama then perhaps back via Shimane, Fukui would be a great one week tour and if you had 9 or 10 days then perhaps Kyushu via Wakayama, Shikoku and return via Shimane and Tottori. In May or early November this is a fantastic ride offering many sides of Japan most visitors never see.
A  one week option could be north in summer to Aomori to see the traditional Japanese festivals early August. Bring your mesh ride gear for that one it will be stinking hot. Hokkaido is a two week ride for those with the time but this is a very different side of Japan again. I would suggest leave this until having seen the rest of Japan as much of Hokkaido is flat farm land with dead straight roads and despite the propaganda from the Hokkaido tourism board – it isn't a particularly good riding destination for non Japanese. Have a look at my tours and see what you like or ask me.
There is a wealth of information about where to ride but of course it is all in Japanese. There are monthly magazines that focus on motorcycle touring in Japan with frequent features on the best roads. There is no doubt many clubs, forums and personal blogs on the net but again all Japanese. There is a series of touring maps produced specifically for motorcycle touring in Japan which you can figure out with a little time no matter what language you speak.
I have a set of these now, the Touring Mapples. In my experience so far they are good but not the bibles of road information some blokes on forums claim. I have found roads not marked in these books that east beat out the ones they list in some prefectures but these are a great resource if you were thinking of doing an extended amount of touring here..
I also previously had purchased a few motorcycle touring magazines to get me started on where to ride which list many of the roads that the mapples cover but after all is said and done I found it was better to explore myself using Google maps and street view to virtually look at roads beforehand then build a route with ones that seem interesting and don't turn into a narrow walking track in the mountains – as can often happen here.
I have been asked where is my favourite riding area and that is hard to answer. Tottori and Shikoku are terrific for me with low volume of cars and a different feeling, like Japan in a older time. Kyushu is also so interesting in Kagoshima. Petty much everywhere that is not urbanised is good and that is the key thing in riding here – avoid the main roads, bypass towns and forget about riding in the big cities like Kyoto as so many people seem to want to do – the traffic density is extreme and the roads are too narrow to lane split and since you cannot ride the footpaths like in SE Asia you will spend hours in traffic jams.
I am compiling a Google map with some of the good motorcycle roads in Japan. I made this for my own reference as I ride here but now feel it is comprehensive enough to share as I have ridden about 70,000km exploring the country so far. Here it is as it currently stands a record of most of the roads I have ridden and a few I am planning to ride next. Black lines are good riding roads. Blue are also good but might be narrow or busy. Green is scenic road or alternative to busy road. Red are favourite roads of mine. Symbols are for view points, hotels I have stayed at, attractions and warnings. Click to open it full screen then the legend appears and when you click on anything a note will pop up..
5. Do I need to learn Japanese and chopsticks and all about Japanese gas stations.

You need not learn the language but if you learn a few words then it would certainly help. On the other hand I would urge you to practice using chopsticks if you have never used them before because you may encounter that this is only eating utensil provided. Pretty easy once you know how, Google it or YouTube for instructions and tips and get some and practice before leaving home. I travelled to Japan first time around 1996 pre smart phones and dual language signage on the railway knowing nothing and never having used chopsticks – but I have done all the dumb things in life.
Grab a few apps on your phone about Japan, a language one, a Tokyo rail map and Google translate app. To translate written Japanese use the Google translate app to take a photo which it then scans and (occasionally) translates. Very valuable tool so make sure you have a phone that can access data to provide this when you need it. (update can work offline just be sure to d/l the files needed at home)
Actually some English-Japanese slang that is going to really help with your riding tour are Hi-Oc meaning premium fuel, Man-Tan meaning full tank of fuel, Card-O meaning I want to pay with credit card. When pulling up to the petrol bowser many are full service, especially small gas stations and you do not pump your own fuel. In this case you need to say those things and you must say Card-O before any fuel is pumped. Not everywhere takes cards, small country side gas station will be cash only – you can ask Card-OK? or take out card from wallet and say OK? But any large one will take cards now days so you might alight and flip you helmet up and say Hi-Oc, Man-Tan, Card-o to the attendant and they then wipe the card and give it back to you then start to pump the fuel for you and afterwards present the credit card payment slip to sign.
In Japan credit card payment is still always sign for authorisation, using PIN or paywave has not arrived here. Credit cards are still a new thing in Japan. You need not remove your helmet at the gas station. Yep, how good is that. Of course if driving a car you need not even get out of the car. The attendant will come to your window and also wipe your screen – and give you a face washer to refresh yourself while waiting – like you see in the old movies, it all still happens here. Bikers don't get as much treatment but if you want to clean your screen/visor just motion the wipe to attendant and they will point to the towels.
Above you can see a typical suburban gas station. A rider has arrived and an attendant is about to fill the scooter. One of the attendants has run out to the footpath to help guide the car leaving, this is all part of the service, he may even step out to the road and stop traffic to allow the car to leave then yell thanks so much for your business as the customer drives away. This is standard level of service in Japan. There is no shop selling food or drinks at Japanese gas stations, they usually fix flat tyres and some offer car washing but no shop because when the driver need not get out of car then obviously the shop would not work. Payment is after not in advance (which I have only ever seen in USA) but at self serve of course your card has to be authorised in advance.
The self serve petrol pumps can be difficult to work out how to operate but the trade off is fuel there is cheaper. Some like Esso have English menu option but some Japanese gas stations with self serve can be really tough to understand and some I have had to get back on the motorcycle and simply ride on to the next gas station. Another thing that gets confusing is there is no fixed colours for the fuel pumps in Japan. So different brand gas stations have different colour pumps for regular, premium and diesel. One gas station chain might have green for regular then another will use red for regular and green for diesel and another red for premium. If the fuel type is not 100% clear then stop.
If you want a hassle free first trip look for full service pumps. You pay a few cents more per litre usually for full service but your riding a motorcycle not using huge amounts of fuel and if here for a one off tour for a week or so the total difference is likely to be less than a Starbucks coffee and it can be fun as the attendants will often try ask where you are from and be interested in you and hell where else in the world can you get this level of service for a few cents extra so enjoy!
6. Riding the Japanese road network.

Japan drives on the left, if you come from one of the countries that drives on the right then I would not let this concern you. I travel a lot switching between left and right side sometimes one week to the next and on a motorcycle I find you adjust very easy unlike driving a car which I find awkward to be sitting on the opposite side of the vehicle with strange to me layout and perspective looking forward. None of this happens on two wheels and the only thing I might do is when pulling into a shopping mall car park get bit confused for a moment.
The speed limits in Japan are ultra low if not on the national highway network. 50 kph on open country roads, 40 kph if those roads have many bends. Like many things in Japan the speed limit dates back to past, to the very early days and first cars when roads were all narrow and still had horse and buggy. Despite things like bullet trains Japan actually has a strong culture of keeping old ways intact. The bullet train for example only came to being through extraordinary efforts at period of time when the world too bold moves like concord and the moon landing.
More common and certainly the current thinking is towards retaining old ways. Good news is in reality the speed limits are mostly ignored because they are impractical. In town traffic may often be flowing 50/60 kph same as Australia and out of the towns people generally drive to the conditions and 75-80kph is common and until you are in the countryside is fine as the roads are not really suited to going faster until your reach mountain pass then you can decide what you think is you own pace just same as you would anywhere ok? However if you only see things black and white and must follow the posted limits to the letter then you probably should forget about coming here.

Venus Line, Nagano.

The national highway network is a privately owned network of toll roads called Nexco. The speed on them is normally 100kph but is dynamic and limits are reduced in rain or wind or some people claim sarcastically if the sun goes behind a cloud, as often there appears no logic to the lower kph being shown in the LED signage but anyway by in large the speed limits on the expressways are ignored. When 50/60 or 80kph is posted 99.9% or drivers ignore and drive at 100 or more kph. Buses and 'hat drivers' seem to be about 90-100. Trucks 100-120. Average Joe sits around 110-115kph but the fast lane can see traffic up to 160kph with average Lexus driver sitting often 125-140kph.
There is so far very low policing of speeding. A few fixed mounted speed cameras that people briefly slow down for (only forward facing so motorcycle rear plates are immune) and occasionally you might see a police car near the major cities sitting in a highway bus stop but traffic generally slows at cities due to congestion anyway. At roadworks the speed will be reduced to 50kph, nobody whatsoever slows down less than 80kph since no radar or cameras are used. There are no point to point speed record devices, the highway is divided so no highway patrols with radar since they cannot do a u-turn to nab you.
Now I am not suggesting you break any speed limits, you are in a foreign land and not in a race so sit back and enjoy the wonderful views the elevated expressways offer. I mention all of this so you understand the road environment here and are prepped to make your own choices.
Nexco is the general name for the expressway network but it seems operated by different companies so you might go all day on a single toll gate ticket and exit the network paying just one toll or you might change a few times to different networks and each time you will pay a separate toll. There no reason to worry about this if here on a tour, you are unlikely to be using toll roads much and on the odd occasion the cost will not be a major expense.
Using the toll roads here you need to know a few things. Japan uses a slightly antiquated toll system instead of number plate camera recognition like much of the world now uses and unless the rental motorbike has been fitted with a radio control electronic toll gate device with Nexco approved credit card fitted inside it (very unlikely) then you need to go to the manual gates. The automatic electronic gates are marked ETC and you need to avoid these. At the manual gate you must stop and take the ticket issued by the machine and put this in a safe place to present later at the toll booth (or you stop and pay a flat fee on some toll roads).
When arriving at a toll booth again move to the manual non ETC lane and stop to pay toll. Most booths will be manned and you hand the ticket to the Nexco staff member. Some but not all booths will accept credit cards. Look for the international symbols of Visa and MasterCard being displayed to recognise that booth accepts payment by card. (but I have found at least two had the signs then still said no card…credit cards are still a new thing here and not trusted by Japanese) It is very important you always carry enough cash . One part of network may then you change to another that is cash only. Some booths are unmanned and you need to insert the ticket into the slot as marked and then depending on the network again it may only take cash or it may take credit cards. (the Tokyo metropolitan expressway system, the busiest in the country still does not take credit cards)
Sorry to harp on about this but with so many countries having moved to cashless I know people are getting caught out here. I too still find it odd, especially that there is no online payment of bills, no phone payment of bills even so just keep in mind you might go to a cafe that has touch screen tablets for menu but will be surprised when you try pay by card. 
Here is a explanation from Nexco with photos of how to use the toll gates and a further link to a pdf on how to use the machines.
Like most expressway systems if you take the wrong ramp you likely will have to ride 10 km before you can exit then return back to the junction to take the right one so if in any doubt at junctions try to pull over and make sure rather than taking a guess, but because the flyovers might veer off to the left then go over or under to the right it can be hard to know so stop where you can see the signs for the towns/cities the junction goes to if possible, here is where a GPS with junction view graphics pays for itself.
The Nexco network has the most amazing parking areas (service areas/rest areas) of any highway network I have even been on. There are two types, the basic rest area with toilet and vending machines just for call of nature stop and the full Monty parking areas that can have a huge range of facilities including hot showers, massage chairs, quiet zones for a sleep, laundry, dog walking park, children's activity centre, cafes, bakeries and full restaurants. Some now have a Starbucks or specialised stores selling fashion, even motorcycle accessories. A few remain that are old and underutilized but many are quite fabulous places to stop for a rest and have dedicated under cover motorcycle parking. You can check facilities at the Nexco site.  The Japanese GPS's give details of the facilities at each stop ahead but alas the only rider option for user defined routes is the Garmin GPS which offers rudimentary road guidance.
Just be aware that the price of fuel at these parking area places is 5-10 cents a litre above the prices on the street. If you need fuel nothing much can do as to exit and re-join besides wasting time will certainly increase the overall toll anyway but try fill up before any long ride on the expressways if not again don't sweat the extra couple dollars in the big scheme of things.
A legacy thing that is catching people out is the Tokyo Metro Expressway still has a ban on motorcycles having a passenger. This used to apply to the entire expressway system but every other operator has dropped the ban except the Tokyo metropolitan expressway. If you have rented a bike and have a passenger you will be stopped at the toll gate if trying to join within the Tokyo metro area. The map below will give a rough idea of where you cannot ride two up.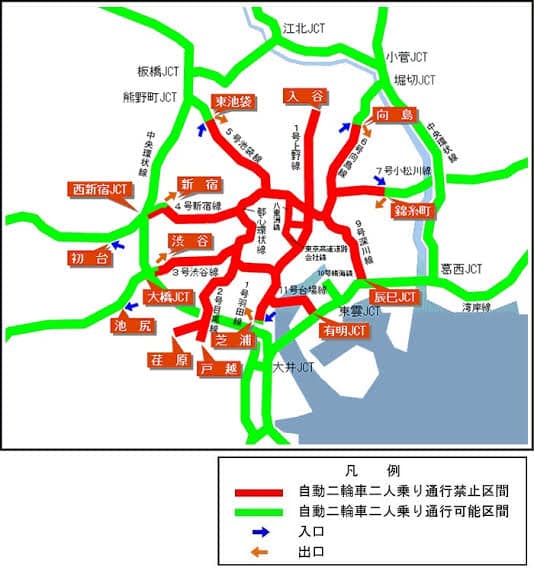 All the expressway signs are dual language  actually I found some that were not at major junctions on my last ride and had no idea which lane to take at the split haha – away from the expressway most intersection signs now are dual language until you get well off the beaten track. But if you are not familiar with the towns in-route to your final destination then this may not be much help and so a good GPS earns its keep in Japan.
Some oddities you may encounter is intersections with confusing traffic light signals, an example is a red proceed light but then a green proceed arrow may appear while the red light remains lit. Not sure the thinking on this one. There is a lot of colour markings on the roads. On new roads in mountains you find yellow or red stripes to be careful and slow down. Some roads have slightly raised stripes which I think has been fitted to annoy the car drifters which is a big scene here but can be a hassle for bikers too but mostly the markings are just painted on and are always using grit/glass particle so not slippery.

Suzuka Skyline, Mie

Cars stop at all railway crossings all the time (so fortunately most crossing have been grade separated by bridge or tunnel). There is no stop sign at rail crossing that I have noticed but I presume the rule to stop dates back to before flashing lights were fitted to railway crossings and lives on forever despite it being pointless exercise. Many traffic lights do not have a turn arrow but oncoming traffic can get a red light for about a minute before your light goes red to allow you to turn right across flow. There is nothing to tell you the traffic light on other side of intersection is displaying red.
The solid middle yellow line marking means no passing like double yellow or double white in other countries. Sometimes cars will put on there hazard lights to indicate they are stopping which then allows you to pass. Often then they continue on behind you having just been courteous. Other cars flash their hazards back to the car that has let them pass, this is a way to say thanks. I give a wave on the bike. How much you find this happens depends. Some people despise motorcycles, some are neutral and some wish they were on one themselves but generally people let me pass often and are nothing like motorcycle hating Australia. The solid yellow line seems to be the only way new roads are made with no overtaking anywhere even on huge straights, some new elevated roadways have plastic beacons stopping any over taking despite the road at times being clear and straight for km's ahead. Not much you can do in that situation and shows the OH&S idiots are gaining ground here too.
You need a lot of patience riding in Japan, at times you will get stuck at low speeds in urban zones so always route around towns. Rest areas with toilets on rural roads will surprise most people. They will nearly always be spotless and have ample supply of paper and many will have heated seats and clean towels and flowers that local people change frequently. In many parts of the world public toilets are disgusting but in Japan people have pride and do not vandalize everything so you end up with toilets that sometimes would not look out of place in a 5 star hotel. Here is a map of just some of the rest areas throughout Japan.
Convenience stores will nearly always have toilets too so you need not wonder where to go like in so many countries. But whatever you do unless you understand what all the buttons on the computer toilets do don't touch them. Flushing will be by a handle located separately from those buttons.
Planning your route and GPS navigation in Japan
When planning your ride in Japan it is important to not over estimate the distance that can be covered in a day. If renting a motorcycle in Tokyo the shops in Japan do not open early then you need to fill out paperwork, store luggage, pack get your gear on, perhaps your ride day is starting late morning. I mention this first up as I have seen a few people plan very ambitious rides here that looked doomed to fail on the first day to me with distances you cannot easy ride here being applied. If using the expressway then sure you can cover ground just like you might in other countries but off those toll roads it is not possible.
For me around 300km is a full day of riding on small regional roads. I aim for wheels rolling 8.00am and finish around 4.00pm but often it will be 5.00pm. During Spring you have longer days but Autumn days are short with sunset around 4.30pm and 300km is really too much then. If I am on the expressways that is a different matter. Pure expressway riding I can do 600+ km without any effort – except boredom.
Three navigation points.
Point 1. People route via the Google map 'yellow' colour roads which they think are all minor roads but these can be busy connecting roads full of trucks. Important to try use low volume roads and roads known to be good riding as Iisted in my map or on other resources.
Point 2. Google maps gives a false impression that a area is not so urbanised in regular map mode. You need to switch to satellite view occasionally to get the real view and then route around the larger towns using bypass roads or the 'wide farm roads' as they are called and avoid going through the downtown shopping areas.
Point 3. Japan went through a road building boom but now the economy is bust and you must be aware some roads reach a point where the building just stopped and they go from two lane hotmix to one lane track. Use Google street view to check and don't be too ambitious. Example – a group from Australia were going to ride the entire route 299 from Tokyo then the 361 to Takayama after picking up bikes from Tokyo mid morning. The 299 starts out two lane sweepers but ends up a one lane goat track that in it's entirety takes hours to ride. I think if they made it to Takayama by midnight they would have been doing well. 
Roads here can also be closed due to land slides from earthquakes or typhoons, Bridges and tunnels can be closed after an earthquake while they await repairs. The signage is always in Japanese only and usually is a white sign with the route number and a red circle with a red X marked (I will add a photo in future) or it may be a electronic signboard. You need to stop and see if road is totally closed or just no heavy vehicles using Google translate app.
Here is a link to a site where you can check road closures.
GPS routing
I only know the Garmin GPS systems since no Japan maps for Tom Tom GPS so this part will talk solely about that brand. I currently use a Garmin Zumo 660 GPS in Japan and an older Nuvi 760 everywhere else in the world. I use a site called RidewithGPS to build my daily riding routes. Some Garmin users persist with Basecamp and Mapsource, but then some people still use Windows 95.
You can point and click to draw a route, easy undo and zoom in and switch to Google street view on the fly to see what the road is like which is crucial feature in my opinion that other planners lack. It is free to use once you register and can export files in .gpx format that you can copy to your Garmin GPS (update it seems the free version is limited but take a look – I have no affiliation). If you use Google chrome then have it set to auto translate Japanese to English and your planning map will appear in English.
Some tips for planning with this tool is zoom in to make sure you click on the road and not a side street or the GPS will want to take you to the same side street when riding. Use the orange man icon to view each road in Google street view. Always double check at closer zoom the finished route to look for things like having clicked on the other side of a four lane divided roadway. The cue sheet entries for any toll road sections must be deleted or your Garmin will go crazy trying to calculate the route. I add cuesheet entries for POI to alert me to anything along the way, if you type a description it will display same in your device. Personally I now delete all the auto generated cue sheet entries which come from the Google maps (shown in window on left of work space – see photo) I then use the option to manually add cues just at the key places in the route to keep the gps locked to my preferred roads but let it otherwise operate freely to provide all the turn by turn cues itself.
But this is time consuming and you can just leave them as is. Export file as a gpx route file after saving and then preview in your GPS device before your ride, zoom in to examine if the gps has calculated your route as you wanted or has decided it knows better and has made a short cut or taken the expressway when you wanted to stay on rural roads. If incorrect see what short cut it is taking and go back to the route and add additional cue sheet entry to guide the gps to take that bit of road then it knows to navigate as you want. You can switch to Open street map in Ride with GPS also to match if you use that in your device or phone app like OSMand.
Update – Not sure I explained this fully but when planning a route for Japan the devices have an issue with the elevated expressways with uploaded routes (this seems to be because other roads run underneath). You must remove all the cuesheet entries that are on or adjacent to the toll roads. This is a issue in some other countries too i.e. Spain. I presume it is a map issue as not a problem elsewhere. Here is an example below where a short route uses a bit of toll road as marked in the yellow circle. The cuesheet entries whilst in Japanese show the on ramp and exit or as you click on each one they are highlighted on the map so you can easy see the ones generated for any tollroad and delete them.
Update 2 – I realised some people are not aware how to use these or other gpx routes in a GPS. You need to save the file to your computer first, in ridewithgps that option is in the View Route screen and the export section then choose export route file . Next you need to plug your GPS to your computer via USB cable and when it shows up as a device select the option view files. Now you copy the route file to the Garmin/GPX sub directory. Disconnect your device from the computer and boot it up. Some devices will prompt you new data found do you wish to import, if this happens of course follow the prompts. On older devices you need to go to the My Data button then select import data and then select the route file. Either way after it calculates the route you should always look at how the device has calculated the route to ensure it is accurate by pressing the Preview button. 

Update 3 – sorry for so much GPS stuff but lots of confusion about these things exists. Important to know that some car Garmin GPS models do not permit user defined routes. That feature is what allows you to make a custom route and upload it to GPS then have the GPS follow that route. Most GPS's simply go from A to B the fastest way which is great for cars but not riders who want to take the scenic way. The Zumo motorcycle models do, the Nuvi 760/765 & 1450 models do – which are dirt cheap second hand. Newer models you need to check closely it they truly permit this as Garmin was slightly dishonest with its marketing stating many basic models allow custom routes, they do but you have to stop at every waypoint which is useless. If buying and in doubt ask a geek on a GPS forum.
GPS maps
It is debatable as to the best mapping but most say the official Garmin Japan road map which is currently version 15 18 20. There has been a persistent effort by some people on Japan riders forums to misinform that Japanese language maps do not work in non Japanese Garmin's. This is totally untrue. Any Garmin Nuvi/Zumo made since 2008 is multi language or can be auto updated from the Garmin web updater.  Getting the junction view data to work on your non Japanese model is a separate issue and I suggest going to somewhere like GPSPower.net to read up more about that which is beyond the scope of this post.

Above, junction view in action.
The junction view is in my opinion really the real advantage of the Japanese model Garmin's and their maps and why I purchased the 660 here. Other map options you have are the Open Street Maps (OSM) which are getting better all the time.
I navigate the rest of the world with a 11 year old Garmin Nuvi 760 that I put in a waterproof case along with a power bank battery and strap to the handlebars of rental bikes. This means I do not have to be fitting things to the bike to mount a Zumo and trying to access the battery to wire it up. I use a case by Soeasyrider which has worked for years and the notion that you need a waterproof Zumo is not true. For power I have a 6000mvh battery and the tricky part is you need a two wire power only USB cable to connect otherwise the Garmin's go to data mode. I made my own originally but they can be purchased on eBay or simply convert a cheap car cigarette power cable to a USB one if you have soldering iron. You could buy a setup like this with everything from eBay under $100 including older GPS.
Smart phone navigation
You do not need a GPS at all to navigate these days. You could try a tool like Google Maps navigation on your phone or OSMand the open source navigation app which is gaining a strong following or look at some of the other GPS apps for your phone like motion-X which I also am told is good. I am not experienced with either, I like a proper GPS that I can easy operate with gloves on the fly, pan and zoom the map as needed as I only navi by visual map instructions not voice guidance. The reason is GPS or smart phones are just little computers and bits of software and you need to be confirming the instructions by looking at the map and what it is telling you rather than blindly follow turn by turn instructions via headphone. Also I am always panning and zooming the map to look at intersections or seeing where the GPS is taking me – so many times I will zoom the map out and choose a less direct route to avoid a route that goes through a town.
If you are going to be riding here in a big city and want assistance to navigate it with proper junction view and lane assist without buying a GPS then there are a couple of apps to look at. In English there is only one app I know of with junction advice. Go Go Navi has very accurate junctions and 3D building graphics but alas it does not offer user defined routes. The negative of this app is only iphone and I think only on Japan app store.
Another app is Navitime Touring Supporter. This is an excellent motorcycle focused navi app. Available on both phone platforms but only Japanese. 
Also unlike a regular GPS phones can use phone tower signals to continue to navigate underground. Huge sections of the Tokyo (and Nagoya) expressway are below the ground and first time I tried to go across town with the Garmin I got a blank screen and was left to guess each underground junction and which exit to take. Naturally that did not end well. 
Japan does not use the western address system of street and number and town and phone apps support navi by phone number (something other reviewers do not understand) Just to repeat that if you want to navi here to a hotel or from the city to a spot out of town like a 7/11 at start of nice country road then you input the phone number of the place into this app (or any Japan spec GPS in a rental car). You can easy find their number by clicking on them on Google maps. Trying to navigate by address here does not work.
So that is a few ideas and it is up to you how much electronic guidance you want to have riding here – I would suggest cheapest option might be google maps with route broken into 3 or 4 parts since it only allows 10 waypoints. Best option is a Garmin if you have one, something in between might be dedicated GPS app and Google navigation then use combination of both.  
Ferries.
Consisting of many islands Japan also has many ferries. To use these only a couple need to be booked, specifically the ferries to and from Hokkaido, All the others you cannot book (for a bike) just turn up. You may need your motorcycle registration paperwork when buying the ticket. There is usually a ticket office nearby, it may not open until the departure time gets nearer if you arrive a long way in advance. Small islands might have a ticket machine which will be all in Japanese but I found someone turned up to help before the ferry arrived. Large ferries you may be boarding 1/2 an hour in advance as bikes always load first and arrive close to departure time you may not be allowed to board. The ferry from Kagoshima you simply ride on a pay at the toll gate on other side of harbor.
There can often be different fees for the engine capacity of the motorcycle. I see some have discount for 700cc or under and some have three prices for different capacity engine sizes. This really is out of date method of pricing since a KTM Super Duke 1290cc weighs less than a Honda NC700X. The crew will secure your motorcycle on larger ferries. Small inter island hopping you may just be sitting on the open deck. Longer journeys there will be a kiosk with food and area with tatami mats where you will see people lying down taking a rest. Be sure to remove your boots before entering that area. There will always be vending machines and clean toilets with paper.

I have a new page all about Japanese ferries in the guides section of the blog.
7. Access and money.

This is a motorcycling blog so I am not going to try cover things that regular travel blogs might talk about but I have a couple of tips for visiting riders.
Everyone knows about the Japan Rail NEX airport train but did you know there is a rival airport train that is both faster and about 30% cheaper called the Skyliner. It's just 36 minutes from Narita to Nippori station which is where you should change to the JR Tokyo network. In addition to the Skyliner that same rail company provides a budget service that most of the local people choose called Narita Sky Access which just uses regular rollingstock but still runs partly express and can save you a good bit of money.
Skyliner above
You can access anywhere in Tokyo via the rail network. There are many lines and it is worth getting a rail map application on your smart phone (look up one called Navitime for Japan Travel). Some stations you can pick up a paper map of the network. I see people spending a lot of time at ticket machines buying single tickets when using the train networks in Tokyo. The easy way is to get a 'Suica' smart card and load $10 to $20 on it then you simply touch the sensor and the fare is automatically worked out and is at a discount to buying paper tickets. You may end up not using every dollar on the card but in the scale of things a couple of dollars unused seems trivial for the ease and simplicity of operation and time saved.
Apart from the Suica Japan is a cash society. Credit card use is slowly expanding but you should never assume anywhere will take a credit card, even brand new supermarket with computer check outs can be cash. In my travels to Japan before living here I found I could easy obtain better exchange rates buying Yen in my home country than in Japan. Once you leave the airport there are not a lot of currency exchanges like Thailand, a couple in tourist areas only. Easier perhaps to withdraw from ATM's using your credit card but things to be aware of. Most ATM's will be totally in Japanese with zero English. I have found I can operate most of them using Google translate on my phone. Not all ATM's accept credit cards issued by banks outside of Japan, even though they might have the international Visa and MasterCard symbols on them they still will only accept Japan bank issued cards.
Related to this is some merchants can only process payments with Japan bank issued credit cards. All this stuff is a legacy issue. Japan developed its own systems separate to the rest of the world for many things. For example it is not long since all Japanese mobile phones worked only in Japan, no roaming whatsoever as different frequency and even today my Japan Citibank card does not work outside of Japan nor does my Australian Citibank Visa work in Japan Citibank ATM's, two separate banking systems.If a store does take a credit card it will require you to sign for the transaction, nowhere here yet has pin number authorisation on credit card sales.
Convenience stores can help you with almost anything you may need while in Japan, including cash. 7/11 have ATM's that kind of have English but then switch back to Japanese at what looks like the confirm screen. Lawson stores seem to vary but I have found some with English option ATM's. Family Mart also have an ATM, I found theirs in Japanese was simple to operate. A tip for using an ATM here is you may need to enter the yen symbol, ie like having to insert the $ symbol when typing in the amount even though there is no option to withdraw any other currency type, don't ask me why but if the machine seems stuck it may be waiting for the Yen symbol which goes after the numbers in Japan. Many bank ATM's only operate until a certain hour at night i.e. perhaps 9.00pm then they turn off. Also bank ATM's on public holidays or weekends or generally after hours charge a higher fee than business hours. How the banks here managed to sell this idea to the public that ATM's cost more to run after hours I do not know but please do not tell the Australian banks or they will no doubt try to emulate this scam.
8. Accommodation

I only stay in hotels when riding. I like the idea of camping away from the city in the evening and I have simple tastes so a BBQ or some rice and instant curry camp dinner is fine by me too but the problem is the weather. If it was warm and dry then I would look into camping more but riding in Japan you will always encounter some rain and nights are cold at the time of year I usually ride. Camping in that mix and trying to get my gear dry and cook something at night or next day huddled inside a tent in cold rain is just not for me. I can get a excellent hotel here between $40 to $60 a night, even less if I wanted to stay out of town. With a hotel I have a warm heated room with laundry usually on site with dryer to clean and prep things for next day. I can connect to high speed wi-fi and most importantly take a long hot shower which is first thing I want to do after a days riding then head out to get a nice meal. No idea how people can go without a bath after a day of riding.
I joined a couple of motorcycle groups here online but never attended any of their rides because they always camp every single time which is odd because many are wealthy enough to own more than one motorcycle or trade them often so they are better off then me but worry about paying for hotel for a few days…?
Here is a map of free camp sites around the country which may interest the adventure rider coming here. Generally there is not going to be much in the way of facilities, you might go look for an onsen to bathe in. (or if on the expressway then there is showers at some of the service areas)  I was tempted to try the commercial camp sites however these nearly always require advance booking via phone and state if you arrive without a booking you will not gain access. That removes the whole freedom of camping and with my limited Japanese would be impossible.
AirBnB is another option. I have used it a few times elsewhere for renting studio apartments instead of hotel room and originally it was great value but now whenever I look the prices are consistently more than a hotel room –  especially once you add the cleaning fees and other fees. Prices here are as low as 3000 Yen a night for basic hotels and $10-$20 rider inn dorm type places so do compare before assuming Air BnB will be cheaper which sadly it no longer is.
Love hotels are everywhere in Japan, understand that you need be not too prudish to use them as you will see guys with working girls coming and going as that is the big industry love hotels exist for in Japan but I have stayed in some and they were great. Big rooms and undercover parking, usually a little out of town but quite a few have food that can be ordered or simply ride to the nearest shops. The prices vary wildly but can be a real bargain. Agoda and Booking.com have finally started to list hotels here but lag behind local hotel search engines like Rakuten or Jalan.
The other thing to note is the search engines like Jalan.net or even Japanese hotel chains will divert you to their English page however I find consistently that the English pages have less hotels and less vacancies and limited advance booking capability to the original Japanese original web sites. I have often seen hotels showing full or not even listed on the English page then switch to the Japanese version and bingo rooms available. So Japan is moving slowly to join the rest of the world but not in everything. Still much better now than when I first started travelling here about 20 years ago nothing was online and some Ryokans had curfew or declined to accept non Japanese speaking guests and I could not rent a motorbike unless I promised I had a Japanese person travelling with me – but that is whole other story.
Hotel chains I have used include Route Inn, Super Hotel, Green Hotel. A+, Ark, Smile and Washington group to mention a few. I was told to simply say Check In at hotel counters upon arrival and they will understand this term as it is used by Japanese but that is not exactly true and staff rarely understand because when Japanese say the English term check in they make it sound totally different.
Away from the major cities it is likely you will be the only non Japanese staying and they will look at the register when you first arrive and say Dr Livingstone I presume Mr. Warren? or what every your name is. Many hotel staff have done English training but it might be the first time to use it and they might try then suddenly (nervously) switch back to Japanese even though their English had been very good.Rooms are small by western standards but will have many nice touches, always a small fridge, shoe cleaner, disposable room slippers, decent sound proofing and block out curtains, a small desk and cupboard is standard.
Bathrooms again small but do the job and will include everything unlike some countries that supply nothing.Most of the 'business hotel chains' as they are known offer large buffet breakfast included in the room rate which sets you up for a big ride each day, if not included in rate then ask and worth paying 350-500Y imo.
The big three chains I mentioned above have lots of little extras. Super Hotel lets you pick the type and height of pillow. Route Inn has free espresso coffee machine. Green hotels have free welcome drinks. You will find all have a computer corner with free use of PC and a printer. You will find a bottle of Japanese version of Febreeze in your room. This is standard and is great for the motorcycle rider, I apply to riding jacket, pants, boots and helmet. I constantly see bad reviews of hotels based on the room being small. This is normal here not a bad hotel. Breakfasts usually start as early as 6.30am which is great for us riders. Some hotels I have stayed at in Europe the breakfast started at 8.00am which is useless. 
Food will not be western breakfast so look at what others are eating and follow – I see so many reviews where people are in another country and complain that food is not like their home country – no shit Sherlock! Your hotel room will always have a Japanese style deep bath/shower combo but you also may find the hotel has a public bath on the ground floor. Japanese people are obsessed with public bathing. I tried this on my first trip to Japan. I am not too shy but honestly I have no idea what the attraction is in taking a bath with a bunch of other blokes.
Definitely something cultural you have to grow up with to understand or perhaps be one of those foreigners here that has to embrace everything Japanese. I cannot give much info on them as I prefer to bath alone but you can Google peoples experiences. Some wax lyrically about Japanese onsens. To use it goes like this, you undress in a foyer area then move to area where you wash yourself sitting on a small stool and once rinsed off step into the large tub which is extremely hot and then soak yourself as long as you wish or can stand the temperature.
Hotels are the one place that almost always accept credit cards. And nice thing in Japan the idea of charging an extra fee for using a card does not seem to exist yet unlike many countries. Enjoy while it lasts. A big negative of Japanese hotels is their hours of operation are poor. Check in often cannot happen before 4.00pm (3.00pm at the big chains) and latest check out is 10.00am. Yes it is out of date but rarely bothers me.
Laundry
We all need to wash clothes on tour and while you will not be spoilt to have laundry shop on every corner like South East Asia you will find in Japan every business hotel has a coin laundry on site. This is terrific on tour I can easy wash a few things properly and further more I can remove liners from my riding gear and wash them too which makes for a far more pleasant tour since even in winter we perspire and while I always wipe down my jacket and pants inside with a wet towel and use febreeze supplied by the business hotels after a week I really want to wash things.
All bigger towns will have coin laundries scattered about as well unlike Europe where coin laundries are extremely rare (still have no idea what people do there for washing clothes…) Theses commercial laundries can be a little expensive as the machines are huge used by people to wash their futons but they will include detergent and drying in the price and being such huge machines are very fast with a small load of clothing, you literally could get all your washing finished while having a extended lunch. 
9. Food and drink

Japan is a country where food and eating is almost a religion. TV channels broadcast very little else except food and cooking shows 24/7. I would need a whole new blog to try talk about all the food and dining options in Japan so this is not going to explore that at all. Instead I am going to give some ideas for simple and economical food that is easy for a non Japanese speaking biker who may have some trepidation about eating out in a foreign country.
If you are staying at a business hotel in Japan then a breakfast buffet is included and personally after eating this I rarely feel any desire to have a big sit down restaurant lunch. As long as it is fine I like to get something light at the convenience store and make a stop somewhere scenic or relaxing near a river or view point where there is a parking area. The convenience stores offer a wide variety of fresh food. I usually grab some sandwiches or sushi roll but there is onigiri rice balls with filling which are very popular and lots of salads from simple to elaborate. The Japanese have a tangy cold noodle dish in warmer months which is delicious and you can find many bakery items as well as a wide range of hot food. I have a cooler bag I got from a 100 yen shop along with a cooler pack I freeze each night in the hotel room fridge then I can buy something mid morning when I stop for a coffee and place it on my bike for later and stop whenever I feel like it. This works really well as in the mountains or following a valley there will usually be nice rest spots but if you prefer cafe lunch the shops are of course in the towns so plan you route there at middle of day.
There is always many small cafes serving Japanese dishes. None will speak any English or have a menu in English so it is a little hard to access them but some hot ramen noodles on a cold day is a nice option. If on the expressway then the service areas have a wide variety of food and make a great place to stop for lunch, as well you will find it usually easier there with the food portrayed in photos or window displays. You may encounter the system there that you pay via a machine picking the number that matches the food item you want and then get a coupon to give to the counter. It seems harder than it actually is, just watch someone else and you will understand it. In large towns options will expand and may include some western fast food chains if you felt like something familiar for lunch. I have been following a round the world rider from Australia who loves nothing better than some McDonalds for lunch in every country he visits. That chain is of course in Japan along with Burger King and KFC but not as common as elsewhere. Lotteria is a Japanese Korean? burger chain styled like McDonalds.
After a big day riding I tend to look for family restaurants or other simple dining options in the evening. Often I take a walk to see what is around but if I see one of the big chains then that will do me. Some of the family restaurants I like include Denny's, Royal Host, Joyful and Gusto to mention just a few. These all will have menus with pictures, some may have English menus but usually you will be able to work it out from the photos and a bit of Google translate on your phone. A large meal at these sort of places will be between $7.00 and $11.00 on average. The menus are a fusion of western and Japanese and they are not daunting places to eat at if you are not adept at solo dining.
Above Saizeriya are often attached to supermarkets or department stores and offer very good value meals from about $4.
Japanese fast food chains you might sample include Sukiya and Yoshinoya which while having a focus on soy sauce flavour beef on rice but also offer some other amazing value meals sets. In the south there is Ringer Hut which seems to have a focus on Nagasaki style noodles but also offers other meals and is similarly very good value. You wont find any English menus but it will all be in photos. Craving a burger then I suggest you try Mos Burger which is a large chain but offers fresh made burgers with unique sauce and fresh cooked home style fries and if you add on their corn soup it makes a nice set and change from rice if not used to eating that.
Ringer hut spicy cold noodles in summer.
Alternatively you might just want to relax in your room, plan next days ride, catch up on Facebook. You can get an excellent hot meal from any convenience store nearby. Each evening fresh made meals fill the shelves and the shop will heat the meal for you and provide chop sticks or fork and spoon for dessert items. Lots of people stop on the way home and get dinner this way because it is difficult to make it by yourself for less as many meals are around $4. And the quality is very high as with all food in Japan. Supermarkets also have an area with premade meals and will have a microwave at the front somewhere for you to heat it and all the business hotels have microwaves near the foyer for this purpose as well. I used to think it odd but it is a way of life here and you will see workers who are staying at the hotel perhaps on business coming back to the hotel with dinner from the nearby convenience store. I carry one of those cloth reusable supermarket bags with me on any travel here or abroad and use this to bring hot food back to the hotel rather than plastic bag as it works much better and retains the heat also.
If you want the convenience shop to heat up something (and they have not already motioned to the microwave after they scan the item which they always do) then simply say 'Ting' to indicate you want it microwaved, Ting being the sound of the microwave when finished. No, I am not making a joke.
There is a chain of obento (boxed dinner) shops called Hotto Motto that are a great takeaway option if one is nearby. Their meals are huge and made fresh on the spot and better than the convenience stores. I sometimes get a dinner from them and a beer and just relax in the room, especially after being on the road awhile and just wanting to relax.
If you like a beer then you can get one at any convenience store. Beer from a supermarket or the large warehouse style pharmacies (drug stores) is much cheaper, as low as $1 a can but when you order a beer with a meal in a restaurant you will find the standard price is $5 for a glass, even when the meal might only be $8. Soft drinks also get marked up steeply but the great thing is iced water is always free and will be served with every meal, even fast food burger shops have iced water available although you will mostly have self serve water there. Some places also will provide free tea, hot or iced depending on the season. So to eat cheap in Japan skip the drink at the restaurant and have the complimentary water. By the way tap water in Japan is safe to drink, actually the water quality here is amongst the best in world.
As I said at the beginning if more adventurous or a foodie then the dining options are unlimited in Japan so this is intended for the biker who wants some simple options with the focus of travel here being 'the ride'. I try to explore the larger towns I am in and eat something out but smaller towns the meals from the convenience stores often suit me and I am just as happy to grab something and wander back to the room and catch up on the latest motogp round or waste time on Facebook with glass of something. Not easy to go out here drinking at bars like in SE Asia, wander to the bar district in many towns and you will find they do not allow entry to non Japanese. You can drink with a group at a Izakaya drinking/eating type of restaurant but solo foreigner in Japan the drinking out options are very limited.
10. IT/Communication/Health

You can buy a sim card at the major electrical retailers. Yodobashi, Bic Camera, Yamada, Softmap to mention a few should all have a travel sim or tourist sim sold for visitors to Japan. Of course your phone needs to be unlocked to be able to use this and if your phone is locked to a provider via contract that may not be possible.
Another option is buy a roaming data card from AIS the Thai carrier which will work here and you can be on air soon as you touch down – these are as little as 300 baht and can be ordered online.
I have seen rental wi-fi devices at airport upon arrival here but they usually are not cheap but if you have locked handset then would be an option or share between a group, out of date now that you can get the sims in advance online.
In most countries now you can pre purchase a certain amount of international data roaming or put a cap on the data roaming costs per day and this is another option to look at. Being able to use phone apps on the move is terrific and I would strongly advise that you have some mobile data capability.
Medications in Japan have 1/2 normal strength. People will tell you it is because body size is smaller as reason but that is BS because rest of Asia they use standard strength tablets. I believe it was a cunning move by the big pharmaceuticals here to double the price of medication on the ruse that Japanese should have smaller dosage for smaller body than westerners. Bring all your own medications. If you have to buy anything then understand the dosage needs to be doubled. Painkillers are expensive are only 250mg not the usual 500mg and so on for cold and flu tablets which are often further diluted so the recommended dosage will be 3 tablets 3 times a day but the dosage in 3 tablets will still be half what western cold and flu would be so you need to take an incredible 6 tablets at a time or 18 a day to get the same as you would with western cold and flu treatment. I am not making this up.
I hope you never need this but dial 119 for ambulance in Japan.
Need to print out flights then if not staying at a hotel with printer head to the nearest convenience store. Most have printers that accept USB memory drives, the file format needs to be PDF but that is likely the case already anyway. Family Mart always have big copier machines as far as I can tell and theirs are multi language. Very cheap just 0.10yen. I don't bother to own a printer here, makes no sense.
Well I am going to post this article as it currently is as already is quite large in word count and also this is the sort of post I will keep updating. Hope it has been of some help.